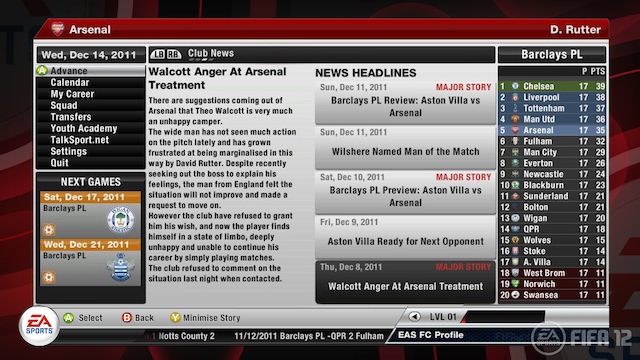 Throughout the Career mode game type there have always been players that go on to greatness.
Surprisingly, the same names come up again and again. Here is a list of place to start when looking for
young talent aswell as a few lesser known players.
10)
Neymar - LF (19) - 80
Plays for Santos in the brazillian league, one of the quirkiest players on the game. Agile, fast but at sometimes weak. If an impat player is what you need, he's your man.
9)
Ganso - CAM (21) - 81
Another Santos player, the playmaker of the team. A good solid distributor of the ball.
8)
Lucas - CAM (20)- 76
Sao paulo attacking midfielder, despite his low starting rating he already has the starting specialties of
Speedster, Dribbler and Acrobat. Given playing time this player will develop to a regular in your first team.
7)
Bojan - CF (20) - 78
Possibly a bit on the expensive side being a barcelona player but a quick developer. Worth the investment.
6)
Muller - ST (21) - 81
The bayern munich striker established himself into the first team this season with 18 goals. Strong, tall and can finish.
5)
Jovetic - CF (21) - 79
Always a cheap buy. Even if he cant break into your team you will more than likely make a profit. Excellent dribbler/playmaker.
4)
Gotze - CAM (18) - 78
One of the youngest with some of the greatest potential. Very well rounded and strong.
3)
Aguero - CF (22) - 85
Buy him while you can, if you can, his price and stats will without doubt skyrocket even after your first season.
2)
Cavani - ST (23) - 84
Good in the air and shot power to rival Gerrard, he doesn't come cheap.
1)
Hazard - LW (19) - 82
Some of the highest potential in the game, whether playing for your club or not he will improve season by season. Well worth the investment of £15,000,000.